When it comes to weddings in the South Asian subcontinent, the groom's outfit is just as important as the bride's. The Sherwani, a long coat-like garment, is a popular choice for grooms in India, Pakistan, and Bangladesh. This traditional outfit has been worn for centuries and has evolved with time to become a popular choice for modern grooms.
The Sherwani is a regal and elegant garment that exudes sophistication and charm. It is typically made of silk, jamawar, velvet, or cotton and intricately decorated with intricate embroidery, beads, and sequins. The design and color of the Sherwani vary depending on the region and the occasion. Some Sherwanis are heavily embroidered with gold or silver thread, while others are simpler and have minimal embellishments.
Various types of Sherwanis cater to different styles and preferences. Here are some popular types of groom Sherwanis:
Pakistani Sherwanis are known for their sophisticated and intricate designs. They are often made of fine silk or jamawar fabric and are heavily embellished with gold or silver thread embroidery materials. The color palette for Pakistani Sherwanis is also different from Indian Sherwanis, with shades of beige, gold, ivory, off-white, and black being a popular choices.
Indian Sherwanis are available in a wide range of designs and styles, and are often heavily embroidered with intricate patterns. The fabric used for Indian Sherwanis can vary, from silk and cotton to velvet and brocade. Indian Sherwanis are also available in a range of colors, with shades of red, gold, and ivory being the most popular.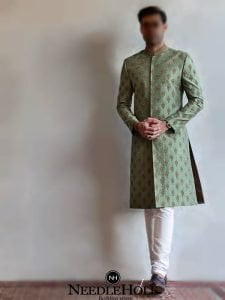 Achkan Sherwanis are popular for grooms who want to sport a traditional look. They are characterized by a longer coat-style design and are typically made of silk or cotton. Achkan Sherwanis are often embellished with intricate embroidery and can be paired with a churidar or a dhoti.
Jodhpuri Sherwanis are inspired by the traditional attire worn by the Maharajas of Jodhpur. They are characterized by a shorter coat-style design and are typically made of velvet or silk. Jodhpuri Sherwanis are often paired with Jodhpuri pants with a distinctive cut and design.
In recent years, the Sherwani has also become popular among grooms who are looking for a modern and contemporary twist on a traditional outfit. Designers have experimented with different fabrics and colors, and have added modern touches to traditional design. This has resulted in various Sherwanis catering to different tastes and styles.
The Sherwani is a timeless and elegant outfit that is perfect for grooms who want to make a statement on their wedding day. Whether you opt for a traditional design or a modern twist, the Sherwani is a versatile garment that will make you look and feel like royalty. With its intricate embroidery and embellishments, it is sure to turn heads and make a lasting impression on your big day.